Interested in placing a bulk order?
Snohomish Pie Co. loves to partner with our local businesses to provide bulk orders. Whether for corporate gifts or large events, we've got you covered.
Due to the continued increase in the cost of goods in 2023, unfortunately, we cannot offer any bulk discounts at this time.

2023 Christmas Bulk Orders

We are now accepting Bulk/Corporate Pre-Orders of 10 pies or more for Christmas Pick Up.
Pre-order now to December 17, 2023, or until sold out (whichever comes first).
This year we've made some changes to help simplify and improve your Bulk Pre-Order experience.
Our goal is to help you get the pies you want while also giving you a longer timeframe to order.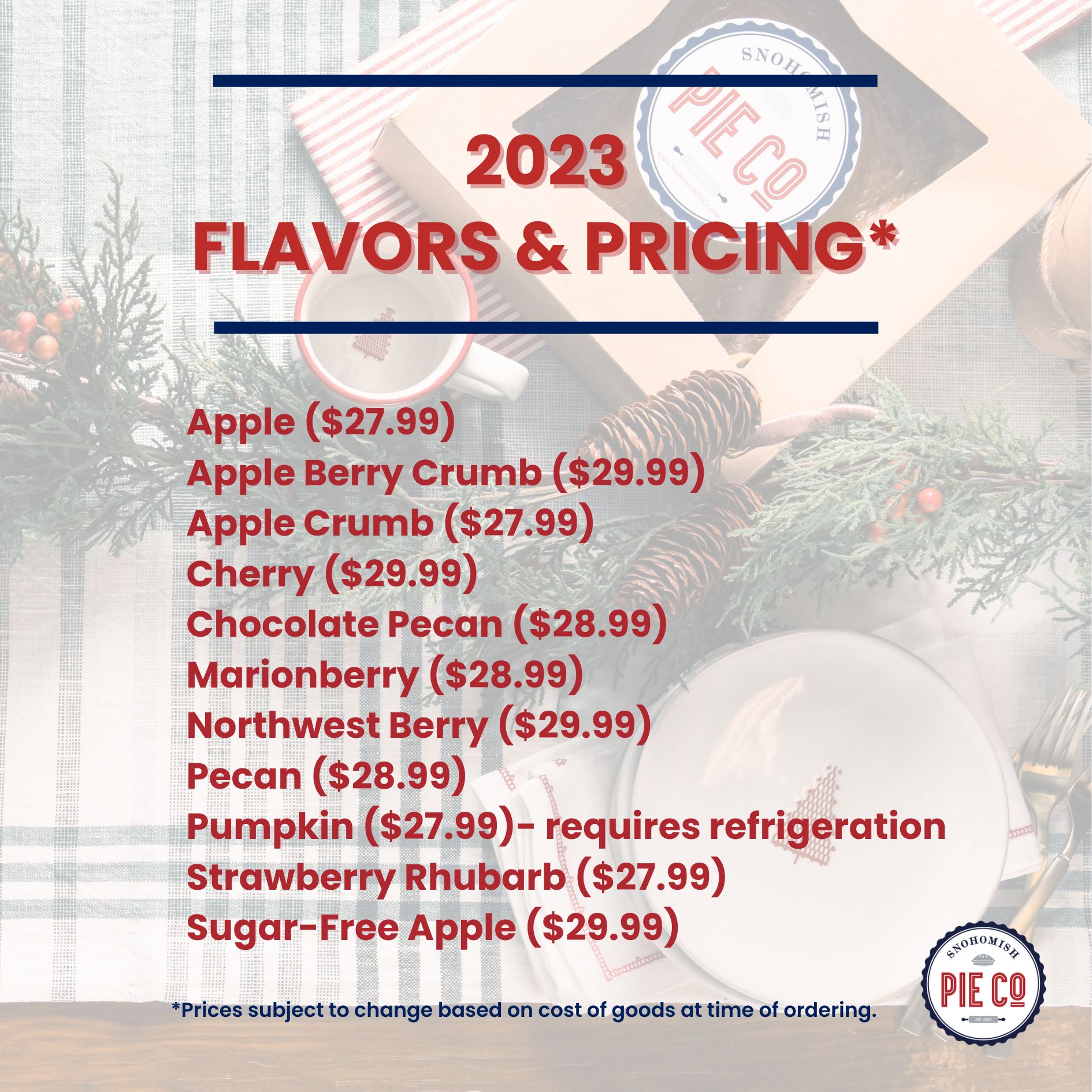 Ordering Details

~A minimum order of 10 pies is required to use the Bulk Order Form.
~Limit 4 Pie Flavors Per Order. Choose any 4 from our available options. Quantities are not limited within the 4 flavors you choose.
~One person must pick up all pies. Due to high demand at Christmas, we aren't able to accommodate your clients/customers picking up their pie directly from the shop.
~Off-site Distribution Required. Due to limited parking and customer confusion, we ask that you distribute your pies to your clients/customers off-site, not in front of, near, or in the parking lot of the Pie Co. Asking your clients/customers to meet you near the Pie Co. causes confusion and often leads to them coming to the Pie Co. pick up line and being told we don't have a pie in their name. Instead, we recommend taking them back to your office for distribution or hand-delivering them to your clients/customers.
~No Delivery or Shipping. We are not able to offer delivery or shipping during Thanksgiving.
Pickup Options (Snohomish & Mountlake Terrace):
~Saturday, December 23rd: 10am-7pm
~Earlier December dates may be accommodated based on availability when ordering.
Questions or need help with your Corporate Order? Email kathryn@snohomishpieco.com